medFEL 2020
The business meeting for fruit and vegetable market players committed to progress
The next edition of medFEL, the international event for the fruit & vegetable sector in France, will be held on 22 and 23 April 2020 at Perpignan Exhibition Centre.
Sponsored by the Occitanie / Pyrénées-Méditerranée Regional Authority and organised by the regional economic development agency AD'OCC and SPAS Organisation, medFEL 2020 expects to play host to 250 exhibitors and 6,000 visitors over the two-day event, offering a comprehensive overview of the market.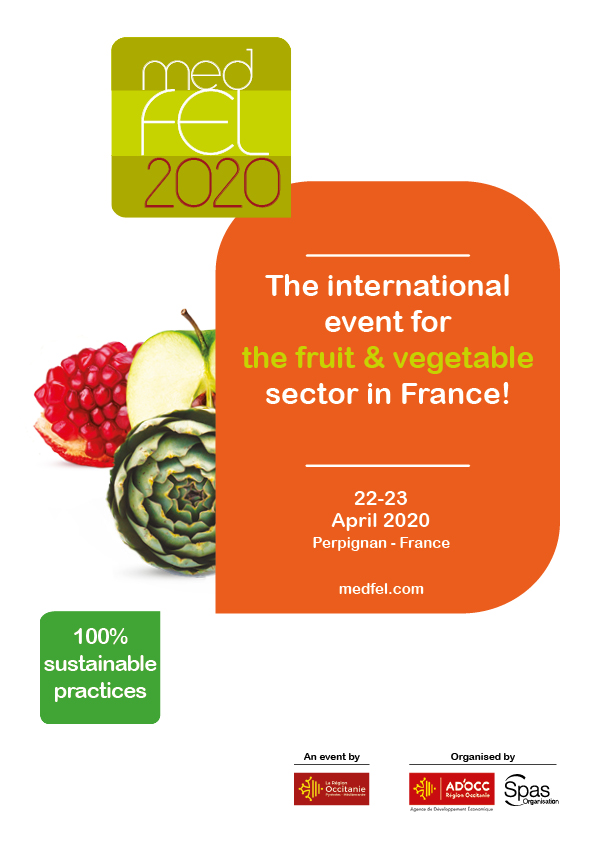 New challenges, a new ambition!
With its new format condensed into just two days, medFEL 2020 asserts its role as a business-focussed, compact, efficient and sourcing-oriented tradeshow.
Identifying the requirements in each segment and taking on board consumer expectations and environmental factors are the structural foundations of this new edition.
medFEL 2020 is the only show in the European calendar to offer a platform to progressive market players who develop positive initiatives to address the ambitious demands emanating from society in terms of environmental protection, waste reduction, alternatives to plastic, market proximity, CSR, organic products, soil conservation, etc.
medFEL, federating the French regions
What's the purpose of medFEL 2020?
Gather together all the regions in France and offer market players an opportunity to get up-to-date and contribute their own experience of the initiatives they have conducted. These are points that will make a difference among French and international buyers.
medFEL, the only genuine sourcing tool in France for French and international buyers in the fruit and vegetable category
Mass retail chains, import/export firms, group purchasing organisations, wholesalers, organic retailers, catering firms, processing manufacturers.. in fact, all the professionals in search of fruit and vegetables will be in attendance at the only French event entirely dedicated to this sector and where market operators, processing, packaging, transport and logistics suppliers, service companies and start-ups will all be exhibiting.
International business, a development vector for all exhibitors, will naturally lie at the heart of the visitor campaign. Pre-arranged business meetings will be organised with VIP buyers from countries considered by participants as essential.
Content at the heart of the show
Major industry trends, harvest forecasts, meetings with official bodies, market prospects, consumer insight, accounts from regions on the initiatives they have taken: all the talks and debates this year will be held in the heart of the show.