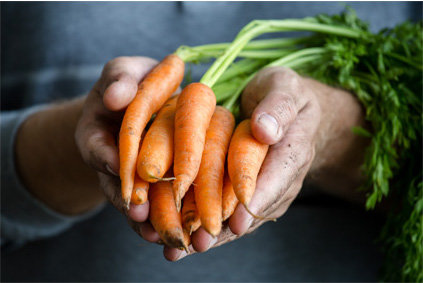 Stretching back 45 years, Creno is a nationwide network of distributors or fresh fruit, vegetables and seafood.
The Creno community is characterised by its local roots. Close to people and to the countryside, the network builds special relationships with local producers on an everyday basis. Creno also illustrates its commitment to the social economy and community support through partnerships with sheltered work organisations and donations to charity.
The group developed the concept "Jardin d'Ici" (the garden here) to raise customer awareness of local producers and products and provide them with better information on the origin and sourcing of the products they eat, in the space of a few clicks on the Jardin d'ici website. This initiative won the first prize in the "Foodtech" category of the 2017 Innovafood competition and came third in the Restau'Co network's 2018 Innovation Awards.
In the past three years, Creno has also been behind the nationwide event "La semaine locale" (local week) aiming to channel custom towards local producers and enable consumers to discover the wealth to be found in their regions.
More information on www.creno.fr